The clothing/shoes/accessory stores are essentially the world of fashion retail. So, those who love fashion, customer service, and business may wonder if Clothing/Shoe/Accessory Stores offer a good career path. In this article, we'll take a look at some of the best jobs in the industry. We'll also look at what skills and qualifications you'll need to succeed. Following this, we'll be able to weigh up the pros and cons to decide if this is a career path worth pursuing.
Overview of the industry
To get started, let's discuss how much the US clothing and clothing accessories store is worth.
Annual figures for 2022 reveal the revenue was $312.37 billion. This is quite a hefty chunk, and you'll be pleased to know that this revenue trickles down to the workers in the industry. In total, over 1.4 million people are currently employed in the fashion industry in the US.
Would you like to be one of them?
If you're looking to build a career in the fashion industry, a good starting place will be large, established companies. You'll be aware of some right away, whereas others may not be too familiar. They range from luxury to budget brands through to specialty shoe stores.
Here are some of the biggest fashion retailers in the USA
Deckers Outdoor Corporation
Crocs, Inc
Nordstrom
Burlington Stores
Foot Locker, Inc.
TJX Companies
Steven Madden, Ltd.
Wolverine World Wide, Inc.
Rack Room Shoes
Nike
Caleres, Inc.
Weyco Group, Inc.
Rocky Brands, Inc.
Next, let's take a look at some of the best-paying jobs in the industry.
Best Paying Jobs in the Clothing/Shoes/Accessory Retail Industry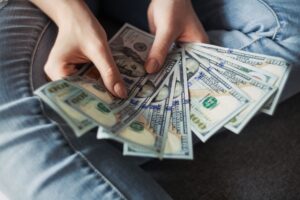 A store loss prevention manager will overlook a team of agents who will be responsible for reducing loss. They will employ different tactics and technology to catch and prevent loss to the business.
Average Salary: $92,402 Per Year
Salary Range: $40,172 to $226,419
While a fashion designer may not work in a department store, they are responsible for the products that end up there. Therefore, they must follow fashion trends while using their own knowledge and style to produce products that will sell.
Average Annual Salary: $85,235 Per Year
Salary Range: $38,930 to $132,442
A stylist may work inside a retail store or will perhaps visit stores for clients. They are responsible for helping their clients refresh their wardrobes with new styles.
Average Salary: $84,329 Per Year
Salary Range: $38,562 to $131,467
An apparel specialist may have a range of responsibilities. However, their main responsibility is to provide customer assistance. They will use their product knowledge along with their styling abilities to help customers make a choice. As a result, they are responsible for selling and sometimes also upselling.
Average Salary:$84,219 Per Year
Salary Range: $38,559 to $131,310
Similar to an apparel accessories specialist, a sales representative carries out a similar role. Their job duties will definitely revolve around sales and upselling. There may be new products that the business will be looking to sell more of, which a sales representative will take responsibility for.
Average Salary: $71,816 Per Year / ($71,905)
Salary Range: $30,467 to $123,534 / ($30,536 to $123,466)
An apparel stock checker will have a range of responsibilities. However, their main focus will be on the stock available in the store. They will carry out regular stock takes to ensure there is enough. If there are not enough products, then they will be responsible for ordering additional stock. They will then use their own knowledge along with reports to ensure they don't over-order products. A stock checker is also important in loss prevention.
Average Salary: $64,668 Per Year
Salary Range: $43,797 to $157,475
Retail Store Manager
A store manager will overlook the different departments within the store. They ensure the store remains profitable and follows the headquarters' guidelines.
Average Salary: $47,953 Per Year
Salary Range: $29,286 to $75,692
Retail Sales Manager
Similar to the store manager, a sales manager will only be responsible for the sales department. They will have set KPIs'KPI that must be met.
Average Salary: $47,906 Per Year
Salary Range: $29,275 to $75,512
Retail Supervisor
A retail supervisor will overlook a department or team, ensuring that work requirements are met. Instead, they will report to other retail management individuals who will instruct them on their priorities.
Average Salary: $47,882 Per Year
Salary Range: $29,258 to $75,036
Fashion Merchandiser
Fashion merchandisers are responsible for ensuring stock is available in a store. They will use trend analysis and forecasting to ensure enough of the right products to allow the business to profit. They may even introduce promotions and discounts to increase sales.
Average Salary: $37,035 Per Year
Salary Range: $26,793 to $51,718
Skills, Experience, and Qualifications
Now that you're aware of some of the best jobs in the industry, what do you need to have to secure the jobs? In this section, we'll discuss the skills, experience, and qualifications required.
Skills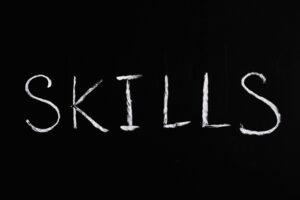 Customer service plays a big role in retail stores and is required for the majority of the jobs listed above. Working in a retail store will definitely require face-to-face communication with customers. Good customer service requires great communication skills—no doubt there'll be confrontations with unhappy customers. Being able to deal with those situations is necessary.
Beyond this, having a great sense of style will get you far in the industry. Being able to provide great suggestions to customers will help to create trust resulting in sales. Being good at sales is another skill that is almost essential while working in a retail store. There may be specific KPIs that must be met; having sales skills will get you through this.
This is just a general overview of some of the skills required. There are other jobs that will require more specific skills, like analytical skills.
Experience
In terms of experience, many retail stores will have minimal requirements. There will definitely be entry-level jobs that will provide on-the-job training. However, being able to present how you have the skills required is essential in securing a job.
Any work experience or interpersonal examples are great for this. Somewhere where you have used communication skills or customer service skills are really great in getting through job interviews.
Qualifications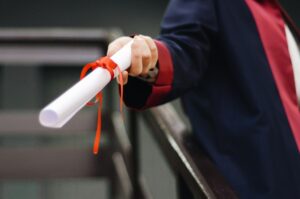 Many jobs in the industry will only require a high school diploma. This is because you'll be able to succeed at these roles through skills and experience alone. Some specific jobs require bachelor's degrees, for example, a fashion designer,
Pros and Cons
Next, let's take a look at some of the pros and cons.
Pros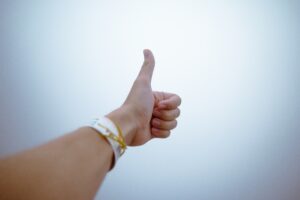 Easy to Obtain an Entry-Level Job
Getting a job in a retail store will be relatively easy due to minimal requirements. You're almost guaranteed a job as long as you can show your willingness and drive to succeed.
Fashion Experience
Working in this industry exposes individuals to the latest fashion trends, styles, and brands. It can be exciting for fashion enthusiasts to stay up to date with the industry's developments. This can also provide great work experience for those looking to break into the fashion industry,
Employee Discounts
Many clothing/shoes/accessory retailers offer generous employee discounts, allowing employees to purchase items at discounted prices. For those who love fashion, this can be a fantastic perk.
Cons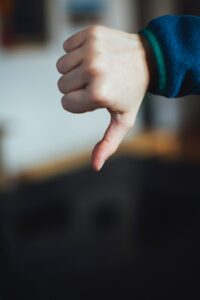 Irregular Work Hours
Many jobs in retail, including those in the clothing/shoes/accessory industry, involve working evenings, weekends, and holidays. This schedule may disrupt work-life balance or limit availability for personal commitments.
Limited Career Growth
While there are opportunities for growth within the retail industry, the upward career progression may be limited compared to other industries unless individuals move into higher-level management or corporate roles or switch to the fashion industry.
Customer Service Challenges
Dealing with diverse customer personalities, handling customer complaints, and resolving conflicts can be challenging and require strong interpersonal skills.
Bottom Line
The Clothing/Shoe/Accessory Stores industry provides a great career path. However, it may not be for everyone. This could be perfect for someone looking for a relatively easygoing job and who isn't interested in a corporate job. On the other hand, for some, it may just be a stepping stone to allow them to gain experience and move on to other jobs.
If you enjoyed this article, check out the rest of our site for more articles about employment and average salaries.